Surah Maidah Quran ka panchva adhyay hai, jisme 120 ayat hai. Is adhyay mein Allah ke hukmon ka palan karna, neki se jeevan bitana aur samaj mein nyay sthapit karne ka mahatva jor diya gaya hai. Is Surah mein waris ke qanoon, kuchh aahar ke pratibandh aur toba ki samajh bhi di gayi hai.
Surah Maidah mein sabse mahatvapoorn ghatna Medina ka Sandhi hai, jisme Muslim aur non-Muslim donon ke beech ek samjhauta kiya gaya tha. Is adhyay mein Yahudi aur Isaiyon ke dharmguruon ko bhi manyata di gayi hai aur Muslimon ko unke dharmik vishwas ka samman karne ki salah di gayi hai.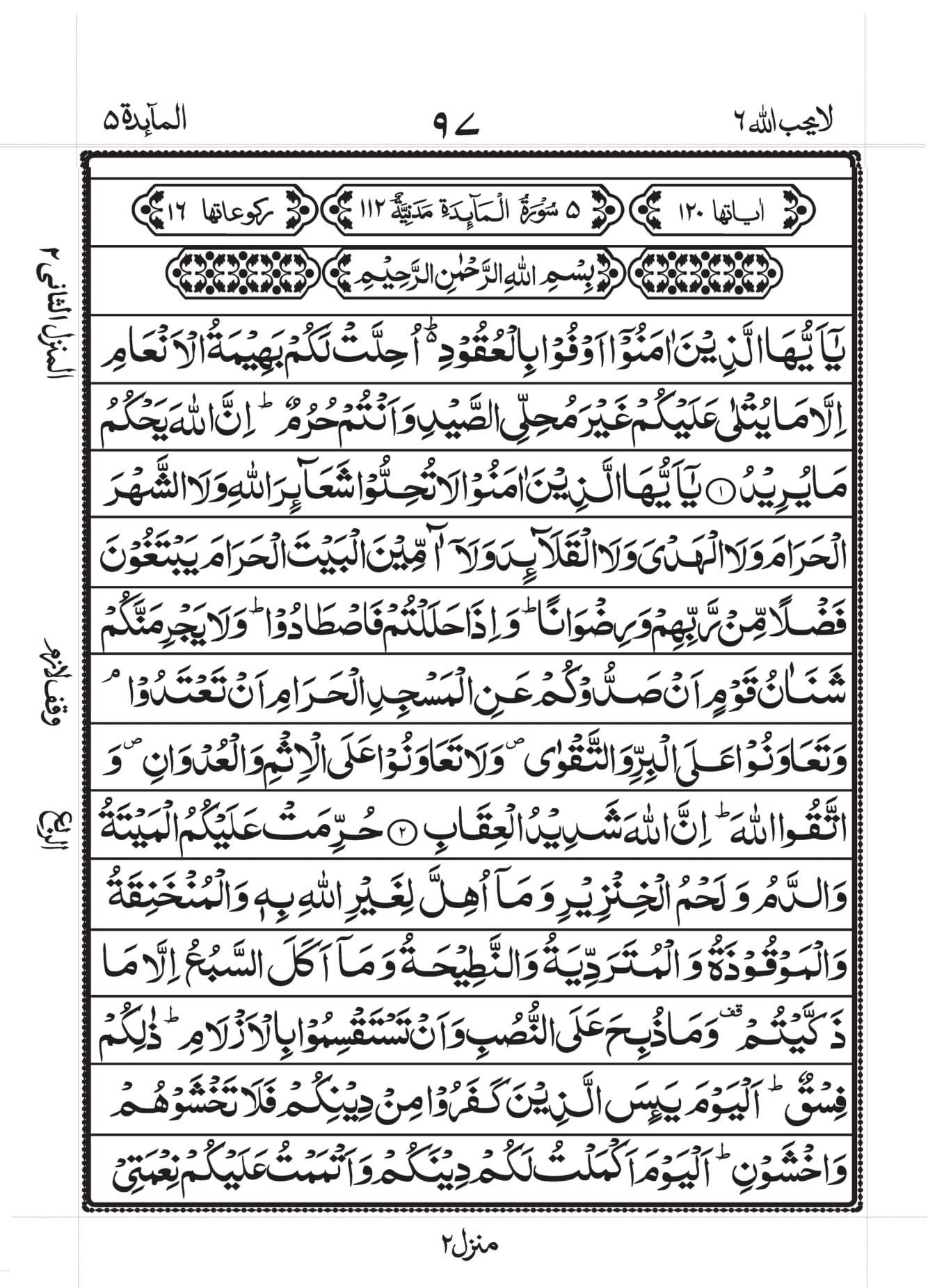 What does Surah Al Maidah Ayat 5 mean?
Surah Al Maidah ke 5th Ayat mein likha hai:
"Aaj se sabhi achchhe khane halal kar diye gaye hain aur kitab walo ke khane bhi tumhare liye halal hain aur tumhare khane bhi unke liye halal hain. Aur nikah mein iman wali aur kitab wali mahilaen halal hain, jab tak unko unka mukammal haq ada kar diya jaaye aur wo naa kisi haram kaam ki talab karein aur naa kisi ka chhupa ke rakhein. Aur jo shakhs iman se inkar kar de, uski saari nekiyaan bekar ho jayegi aur uska aakhirat mein koi darja nahin hoga."
Is Ayat ka matlab hai ki aaj se sabhi achchhe aur shudh aahar Muslimon ke liye jaiz hai. Kitab walo (Yahudi aur Isai) ke khane bhi Muslim kha sakte hain aur unke liye bhi Muslimon ke khane halal hai. Is Ayat mein nikah mein chaste mahilayon se shaadi karne ki mahatvapoorn baat bhi hai, jo apne aapko haram sambandho se door rakhte hain aur shuddhata ka palan karte hain. Ismein yah bhi dhamki di gayi hai ki iman se inkar karne se saari nekiyan bekar ho jayengi aur aakhirat mein wo haari hui logon mein shamil honge.
What does the Quran say in Surah Maidah about being just to the enemy?
Surah Maidah ke kuchh Ayat nyay, insaaf aur sabhi logon ke prati daya aur mohabbat ki mahatv ko dikhate hain, jaise ki Ayat 8:
"Aye imaan wale log! Allah ke liye qaayam raho, sabhi maamle meinsidhe aur nyay ke gawah bano, kisi qoum ke khilaaf na ho jaane do ki tum unse nafrat karte ho, balki nyay ke saath raho, yah tumhare liye zyada behtar hai. Aur Allah se daro, kyunki Allah tumhare amal ko jaanta hai."
Is Ayat mein imaan wale logon ko Allah ke liye nishtha se kaam karne aur insaaf ke gawah hone ka adesh hai, chahe unke man mein kisi ki nafrat ho ya na ho. Yah unhe yaad dilata hai ki kisi bhi vyakti ya samuh ke khilaaf unki dushmani unhe nyay ke raaste se hataane nahin honi chahiye. Is Ayat mein insaaf ka mahatv aur usse jude rehne ka zikr bhi hai, kyunki yah Islam ki ek pramukh moolyavadhi hai.
Iske alava, Ayat 42 mein likha hai:
"Aur woh log hain jinhone jab zulm unpar chhata toh apne aapko bachaya, aur unke zulm karne waalon ke khilaaf badla liya. Lekin jin logon ne zulm kiya, unhe pata chalega ki unhe parajit hona hi hai, aur Allah sabse taqatwar aur azeem hai."
Yah Ayat logo ke adhikar ka zikr karti hai ki ve anyay aur dabangai ke khilaaf apne aap ko bacha sakte hain. Lekin iske saath hi yah bhi yaad dilata hai ki badla unhi logon se lena chahiye, jinhone unhe anyay kiya hai, aur nirdosh logon ke khilaaf kuchh bhi na karna chahiye. Is Ayat mein imaan walo ko yah bhi vishwas dilaya jata hai ki Allah taqatwar hai aur nyay ke vijay ko nishchit kar dega.
What is Surah Maidah ayat 57?
Surah Maidah Ayat 57 ke anusar:
"Hey tum jo imaan laye hue ho! Tum apne dharm ko majak aur tamashe ke liye le jane walo ko, jinme se tumhare samne Injil aur Taurat diya gaya tha, aur na hi vishvas nahin karne wale logon ko saathi banana. Aur agar tum sachmuch imaan wale ho, to Allah se daro."
Yah Ayat imaan wale logon ko un logon se saathi nahin banana ka aavesh karata hai jo unke dharm ka majak udaya karte hain ya jinke vishvas nahin hai. Yah Allah ki taraf se saavdhaan karne ki bhavana ko jor deta hai aur imaan ko banaye rakhne ki mahatvapurnata ko badhata hai. Is ayat me imaan wale logon ko unke rishton me satark rehna aur apne vishvas aur moolyon ko share karne wale saathi chunne ka avasar diya jata hai.
What is the quote from Surah Maidah?
Surah Maidah Quran ka ek hissa hai jismein 120 aayatein hain. Ismein imaan, insaaf aur nek zindagi se judi bahut si batein hain. Surah Maidah ki sabse mashhoor baat ek aayat hai:
"Jo shakhs kisi masoom insan ko bina qatl ki wajah mar deta hai toh usse maana jayega jaise usne poori insaniyat ko qatl kiya aur jo shakhs ek zindagi ko bachata hai toh usse maana jayega jaise usne poori insaniyat ko zinda kiya." (Surah Maidah, 5:32)
Yeh aayat insani zindagi ki ehmiyat par zor deti hai aur beinsafi ke khilaaf rokti hai. Isse sikhaya gaya hai ki ek masoom insaan ki jaan lene ka bhi gunaah bahut bada hai, jaisa ki poori insaniyat ko maar diya hai. Lekin ek insaan ki jaan bachana bhi bahut bada ajar hai, jaisa ki poori insaniyat ko zinda kiya hai.
Surah Maidah Ayat 114 Benefits in Urdu
قُلْ آمَنَّا بِاللَّهِ وَمَا أُنْزِلَ عَلَيْنَا وَمَا أُنْزِلَ عَلَىٰ إِبْرَاهِيمَ وَإِسْمَاعِيلَ وَإِسْحَاقَ وَيَعْقُوبَ وَالْأَسْبَاطِ وَمَا أُوتِيَ مُوسَىٰ وَعِيسَىٰ وَمَا أُوتِيَ النَّبِيُّونَ مِنْ رَبِّهِمْ لَا نُفَرِّقُ بَيْنَ أَحَدٍ مِنْهُمْ وَنَحْنُ لَهُ مُسْلِمُونَ
Here are some of the benefits of reciting this verse in Urdu:
یہاں اس آیت کے کچھ فوائد بتائے جا رہے ہیں جو اردو میں ہیں۔
حفاظت: اس آیت کو با اصرار پڑھنا برائی اور نقصان سے حفاظت فراہم کرتا ہے۔
ہدایت: یہ آیت مسلمانوں کے لئے ہدایت کا ذریعہ ہے، جو اللہ کے ایمان پر اور اس کے حکموں کا پاسبان ہونے کی اہمیت کو یاد دلاتی ہے۔
اتحاد: یہ آیت تمام انبیاء اور ان کے پیغامات کی اتحاد کو زور دیتی ہے، جو مسلمانوں کے درمیان اتحاد اور بھائی چارے کی ترویج کرتی ہے۔
برکت: اس آیت کو خلوص و شوق سے پڑھنا اللہ کی برکت لاتا ہے اور ایمان اور تقوی کو بڑھاتا ہے۔
بخشش: یہ آیت گناہوں اور غلطیوں کی معافی طلب کرنے کے لئے بھی ایک ذریعہ ہے۔
کل، سورہ مائدہ کی آیت 114 کو سمجھ کر اور اس پر غور کرتے ہوئے پڑھنے سے مسلمانوں کے روحانی سفر میں بہت سے فوائد حاصل ہوتے ہیں۔
Surah Maidah ayat 17 Urdu translation
سورة المائدة آیت 17 کی اردو ترجمہ درج ذیل ہے:
"ان جو قول کو جھٹلاتے ہیں اور اللہ کے رسول کے بعد پھر اپنے کے خلاف ہاتھ بڑھاتے ہیں تو اُن پر نہ صرف اللہ تعالٰی کا لعن ہے بلکہ دنیا اور آخرت دونوں میں بھی اُن کے لئے بڑی عذاب ہے اور اللہ اُن کے لئے کوئی مددگار نہیں ۔"
معنی: "وہ لوگ جو جھٹلاتے ہیں اور اللہ کے رسول کے بعد دوبارہ اپنے خلاف کچھ کہتے ہیں اور کچھ کرتے ہیں تو اللہ تعالٰی کا لعن اُن پر ہے اور دونوں دنیا و آخرت میں اُن کے لئے بڑا عذاب ہے، اور اللہ اُن کے لئے کوئی مددگار نہیں
Surah Maidah Hindi Pdf
Conclusion
Surah Maidah ek bahut mahatvapurna surah hai jo Quran-e-Kareem ke paanchvein paare mein hai. Is surah mein Allah Ta'ala ke aadeshon ke baare mein bataya gaya hai aur yeh bhi bataya gaya hai ki kaise in aadeshon ka palan karne se insaan ko duniya aur aakhirat donon mein sukh-shanti milti hai.
Is surah mein Musalmanon ko bhaaichare aur ekta ka bahut mahatvapurna sandesh diya gaya hai. Yeh surah batati hai ki sabhi dharmo aur unke sandeshon mein ekta hoti hai aur yeh ekta hamare beech mohabbat, samajhdari aur bahumat ke saath honi chahiye.
Is surah mein Allah Ta'ala ke vaade ke baare mein bhi bataya gaya hai ki woh apne vaadon ka poora karta hai aur insaan ko is par adhik yakeen rakhna chahiye.
Is surah mein bhi Musalmanon ko dharm se sambandhit niyamon aur tarike ke baare mein bataya gaya hai. In niyamon aur tarike ka palan karne se insaan ko samajhdari, nyay aur bhaaichare ki bhavana mein vridhi hoti hai.